The command prompt is a powerful tool which allows you to "talk" to Platform Builder and tell it what to do.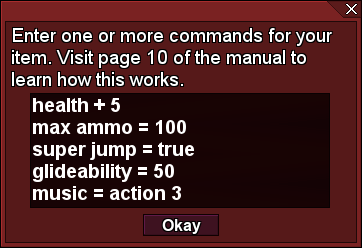 One could say that the command prompt is like something "in-between" a spoken language and a programming language. The experience with the command prompt is comparable to the experience of telling your smartphone what you want it to do. Most of the commands are intuitive, the same thing can be said multiple different ways, and you only need to learn some basic concepts and vocabulary. Furthermore, nothing is case-sensitive or spacebar-sensitive (with a few exceptions), and you don't need to worry about getting an error if something is entered wrong. After you have mastered using the command prompt, you may find that learning an actual coding language will come a little easier for you.
The process is quite simple. Each command must be placed on a single line. Most commands are split into three parts: The command, the operator, and the value.*
The command is what you want to change (For example, health, maximum ammo, the ability to perform a "super jump.")
The operator is how you want to change it. "=" will make your command equal to something. "+" or "-" will add or subtract. "*" or "/" will multiply or divide**. (Do not use "x" or "X" to multiply. You must use the star). The operator you can use varies on the command. Sometimes you can use any of these operators, but sometimes you can only use =.
The value is what you want to change it to. (For example, 100, true, 50, action 3, etc.) This varies on the command. For instance, if you are turning a setting on or off, your command would be the name of the setting and your value would be true or false.*** If you are changing the music for your area, your value would be the name of the music track. If the value is a number, you will usually need to use whole numbers. But some things work with decimals and negative numbers as well. It all depends what command you are working with.
When you finish writing out your commands, right-click on your command input and Platform Builder will check to see if you used any commands which are not recognized.
* Not all commands are structured this way. Some commands do not need an operator or value. Some commands need two values. Everything is documented for you below.
** If you know any programming languages, you are probably used to operators such as +=, *=, etc. These will also work for the command prompt.
*** Alternatively, instead of true and false, you can use 1 and 0 respectively.
Select from a list of categories below to learn about the different commands you can use with Platform Builder's Command Prompt:
You will need a larger screen to view a grid of all the different commands. Come back here on a tablet or computer browser.